Nature is pretty amazing, and nothing shows that off more than a shade tree.
A shade tree looks great in your yard with its broad, green canopy. Beneath a shade tree, you can relax with a good book, have coffee with a friend, snooze in a hammock, or watch the children play catch.
Shade trees serve a key role in providing shade to the surrounding area with their leafy crowns. On an incredibly hot day, you can find refuge beneath a shade tree and feel instantly cooler. They even cool your home, reducing your air conditioning bills.
Let's look at the many benefits of shade trees and how you can make the most of these perks.
Shade Trees Help Keep Things Cool
Feeling warm? A shade tree can keep you cool. Shade trees absorb radiant heat from the sun, reducing ambient temperature beneath them through an evaporative cooling process.
Why is shade of a tree important on hot days? According to Energy.gov, it can actually reduce the surrounding air temperature by as much as 6 degrees Fahrenheit. And because cool air settles near the ground, the air temperatures directly under trees can be as much as 25 degrees cooler. That's quite a temperature difference!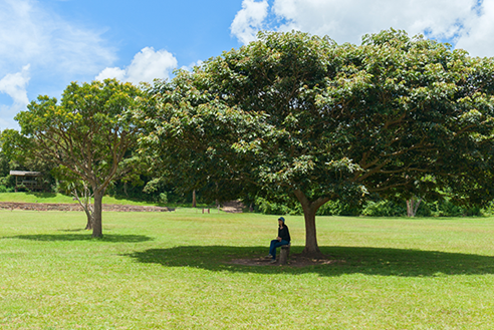 Trees also keep our homes cooler in the summer. Planting them in the right locations can actually reduce your air conditioning bills by up to 35%, the Arbor Day Foundation reports. Planting them on the east side of your home casts shadows on your house during the morning sun. Planting them toward the south helps cast shadows on your house during mid-morning and early afternoon hours. And planting trees to the west of your home helps block the afternoon sun when temperatures are the hottest.
How Trees Protect Our Skin
The sun is pretty powerful. Not only does shade give you a break from the heat, but it also can help protect your skin from the sun's harmful ultraviolet rays, according to the American Cancer Society.
Try these tips to maximize the benefits of shade trees:
Sit under trees with dense foliage for the best protection from the sun. The less sunlight peeking through the leaves, the better!
Choose a tree near other trees or buildings to further block the sun.
Trees provide the most coverage from UV rays during the middle of the day. The hours of 10 a.m. to 4 p.m. are when UV rays are the highest.
Any tree coverage is better than none at all!


How To Keep Shade Trees Healthy
To reap the many benefits of shade trees, you have to take care of them.
Here are a few, simple ways to improve your tree's long-term health. Just a little TLC each season can make a huge difference.
Inspect to protect. Examine trees and shrubs from the bottom up. Check for dead or dying branches, soft or decaying wood, small holes in the trunk or shallow pits in the bark.
Provide the essentials: food and water. Deeply water trees during dry spells and droughts. Also, the trees in our yard often grow in soil that lacks nutrients. Fertilizer helps replace those missing nutrients.
Look up. Many tree pests and diseases can be effectively treated when spotted early. So, admire your tree often. If you see anything on their leaves or bark that looks odd, take action.
Bring in a pro. Having a certified arborist check your trees annually, and especially when you suspect any issues, can help you stay ahead of problems and address them quickly.


Best Trees To Plant For Shade
Ready to add more shade to your home landscape? Since trees come in all shapes and sizes, you want to get the one that most fits your specific climate and conditions. Try some of our favorite trees that provide shade and shelter.