Trees and shrubs can be great structures that define space in your yard. They are the major elements that make up the framework of your garden.
While deciduous trees and shrubs have their moments, evergreens stand out equally well in the heat of summer and against the stark white of snow. Seasons don't define them.
And evergreens are becoming even more popular because there are so many dwarf varieties available that keep things interesting. On top of color and texture year-round, dwarf evergreens are easy to plant, provide winter habitats for birds, create privacy screens, and are low-maintenance.
Let's look at some great dwarf evergreens for landscaping and ways you can add them to your yard.
How to Use Dwarf Evergreens to Give Your Garden Structure
There are so many varieties of evergreens. While you may think they only grow into massive specimens, dwarf varieties let you add the evergreen look you're after to beds, borders, and even containers.
In fact, there are quite a few ways evergreens for small spaces add just the right appeal to a home landscape
Plant them to create privacy. Tall, columnar varieties of arborvitae, juniper, and yew give small spaces that seclusion they need.
Use them as backdrops. Tall varieties with dark green foliage can show off bright colors planted in front, adding more interest to your whole space. This can also work in fall where the evergreen will help accentuate fall color.
Plant them between brightly colored plants to give your eyes a visual break and break up texture.
Hide your home's foundation with low-growing evergreens that keep their color all year long.
Use them to create the corners of a "garden room" by planting upright varieties in four corners of a square. Even without enclosing the space fully, it will feel more intimate.
Spreading evergreens can become groundcovers to fill a space with year-round color and interest.
Use evergreens for small spaces to flank an entrance and create a more formal feeling.
Make a bold statement by selecting varieties that offer different shapes and colors but never outgrow their space. Repeating shapes creates a consistent theme in one area.


Best Dwarf Evergreen Shrubs
Trees can't have all the fun. Dwarf shrubs grow low and give you another layer and level of dimension by adding color and texture across the ground.
Try these dwarf evergreen shrubs for sun to bring interest to even your smallest spaces.
'Chalet' Swiss Stone Pine - This slow-growing shrub has a dense, narrow, conical form and is perfect for small yards. It's striking blue-green needles are best in USDA zones 3 to 7. It reaches just 8 feet in height and 4 feet wide. This slow-grower does best in full sunlight and is drought-tolerant.
'Gold Mop' Cypress - Grow this golden mound in USDA zones 3 to 7. The thread-like foliage brings solid yellow to the garden in a neat and trimmed fashion. It grows approximately 3 feet tall and 4 to 5 feet wide and is winter hardy to negative 40 degrees Fahrenheit. Resistant to pests, diseases, and deer, just plant it in a sunny spot and watch it shine.
'Blue Chip' Juniper - Looking for a low evergreen with bright foliage to cover the ground? This variety grows 1 foot tall and can reach 5 feet across and 10 feet wide, creating a dense carpet. The silver-blue needles take on a purple tint in winter. It can be planted on retaining wall levels or beneath upright plants in rock gardens in USDA zones 3 to 9.


Dwarf Evergreen Flowering Shrubs
When you want a green look that lasts through winter and blooms that create impact during the growing season, you're looking for dwarf flowering shrubs. But finding good ones can be challenging.
Try these dwarf evergreen shrubs for full sun to get the best of both worlds in your space.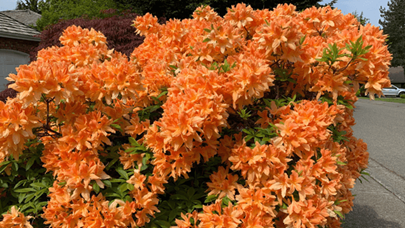 Rhododendrons - 'Purple Gem,' 'Scarlet Wonder,' and 'Dwarf Purple' are a few varieties of rhododendrons that offer showy spring blooms. Best in USDA zones 4 to 8, these stunners offer great color in partial sun. They range from 2 to 5 feet high.
Azaleas - 'Autumn Moon,' 'Nuccio's Wild Cherry,' and 'Coral Bells' are three dwarf varieties that produce flowers in spring in USDA zones 6 to 9. They range from 2 to 4 feet high.
Lantana - This flowering evergreen offers a continuous show of bright, multicolored blooms in yellow and fuschia. Lantana 'Monike' loves full sun and grows in a mound-like shape to 30 inches tall in USDA zones 9 to 11.
Gardenia - With deep green foliage and star-shaped blooms, 'White Gem' gardenia is a stunner at only 1 to 2 feet tall. Add a pleasant aroma, and you'll be wanting to add more of these in USDA zones 8 to 11. Plant in full or partial sun.


Dwarf Evergreens for Containers
Containers are so convenient for your landscape because they can be placed by an entryway or used to flank a pathway, giving grandeur to a space. Plus, you can move them around when you feel like it.
These dwarf evergreen shrubs for containers and dwarf evergreen trees for containers bring that texture you're after in an even more compact package for the ease of planting in containers.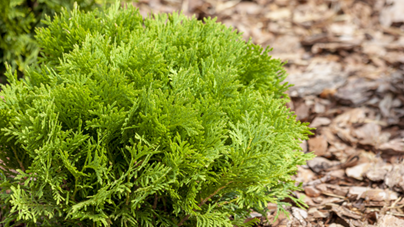 Hinoki Cypress - This compact, slow-growing evergreen tree has a pyramidal form made up for fan-shaped foliage in lush, dark green. This gives the tree its feathery texture. This one likes full to partial sun and well-drained soils and is winter hardy down to negative 30 degrees Fahrenheit in USDA zones 4 to 8. Many varieties can grow 10 to 12 feet tall and 3 to 4 feet wide by the time they are 20 years old, but a cultivar called 'Nana Gracilis' tops out at 5 feet tall.
'Blue Wonder' Blue Spruce - With beautiful blue-gray foliage and a compact, conical form that is only 6 feet tall and 3 feet wide at maturity, this little spruce tree looks great in winter container plantings. Plant it in USDA zones 3 to 8.
'Teddy' Arborvitae - This little shrub grows slowly into an upright, rounded globe that is 2 feet tall and 1 foot wide. It is great in smaller gardens and containers and has dense, soft green foliage that feels like a teddy bear to the touch. Grow this one in full sun or partial shade in USDA zones 3 to 8.


Best Dwarf Evergreens for Shade
Not all yards are all sun all the time. While there are quite a few dwarf evergreens that love sunshine, shady spaces should be able to give you color, texture, and impact, too.
Try these dwarf evergreen trees for shade in your shadier locations.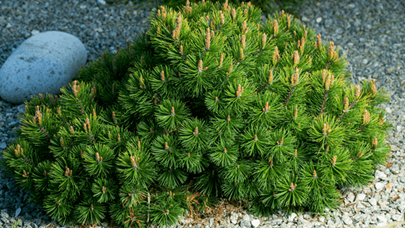 Dwarf Mugo Pine - This compact pine grows between 3 to 5 feet tall with short branches. They are great for rock gardens, foundations plantings or as a small evergreen shrub in USDA zones 3 to 7. They enjoy partial shade and can survive harsh winters.
Dwarf Chinese Holly - With dark green leaves that have pronounced spines, these hollies can tolerate the heat and sustain winter temperatures down to USDA zone 6. 'Burfordii' is a popular variety for hedges, while 'O. Spring' offers yellow bands on its leaves.
Arborvitae - Arborvitae are one of the most attractive and versatile trees, and they are great for creating privacy since they can grow to 10 to 15 feet tall and 3 to 4 feet wide. These easy-to-grow narrow, pyramidal evergreens come in a lot of varieties and are hardy to USDA zone 3. 'Emerald Green' is a popular variety.


Deer Resistant Dwarf Evergreens
When you want to add dwarf evergreens to create structure in your garden, you don't want to draw the deer, too.
These deer-resistant trees and shrubs will bring great color to your space without being munched on by deer.
Weeping Colorado Spruce - A fast grower called 'The Blues' tops out at 10 feet tall and 5 to 10 feet wide. Its blue-green needles pack downward hanging branches. This is among the most deer-resistant dwarf evergreen trees that not only thrives in full sun, but also is hardy down to negative 50 degrees Fahrenheit.
Dwarf Japanese Black Pine - This evergreen tree reaches just 4 feet tall and 2 feet wide. 'Kotobuki' has a narrow growth habit and a slow-growing, dense structure that is deer resistant. Grow this one in USDA zones 5 to 9.