Imagine your dream garden. No doubt it has serene spaces for you to relax or gather with friends, where you're surrounded by countless flowers and natural wonder.
When planning, be sure to include spots for your other friends, too. The ones who bring life–and more blooms–to your garden. Yup, we're talking about pollinators.
Read on to learn steps to design a pollinator garden along with the best plants to include!
How to Create and Design a Pollinator Garden (Bee Friendly Garden Design)
Why plant a pollinator garden?
When you plant for pollinators, you get to enjoy those beautiful, graceful creatures and all their benefits. Plus, you'll feel good about what you're doing.
Learn the step-by-step instructions to design a garden plan for pollinators.
Plan where you'll plant.
To create a pollinator garden, you don't need much space. And you certainly don't need to abandon your previous garden plan. Instead, see where you have room for new plants or spots you could replace plants. Pick areas that aren't too windy. Pollinators don't like that!
Go native.
Pollinators are naturally much more attracted to native plants rather than hybrids. The bees will be happy, and you will, too! Natives plants are often low-maintenance since they've adapted to thrive in your region.
Use different colors and textures to mix it up.
The more color and texture, the better! Bees like blue, purple, yellow and white. Butterflies prefer red, yellow, orange, pink and purple blooms. And birds like many of the same colors, like red, pink, orange, yellow and blue.
Always have blooms in your garden.
Different flowers bloom at different times, so make sure pollinators always have something to eat in your garden. When picking plants, map out when they bloom, and fill in any gaps in timing.
Plant lots of pollinator-friendly plants together.
Plant in groups of five to seven. When you group colors and flowers together, pollinators find them easier. Plus, bees prefer to pollinate one type of flower at a time. When the flowers are close together, they can pollinate quickly while not using much energy. Win-win.
Choose from this pollinator plant list.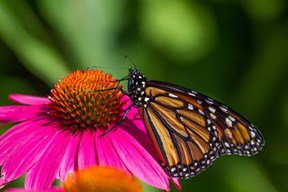 Aster – especially calico aster, New England aster, sky blue aster, or smooth blue aster (zones 4-8)
Blazing star – especially meadow blazing star or prairie blazing star (zones 3-9)
Boneset (zones 4-8)
Bottle gentian (zones 3-6)
Compass plant (zones 3-9)
Coneflower – especially purple coneflower or yellow coneflower (zones 3-9)
Cup plant (zones 4-8)
Dotted mint (zones 3-10)
Golden Alexanders (zones 3-8)
Goldenrod – especially showy goldenrod or stiff goldenrod (zones 4-5; 7-9)
Great blue lobelia (zones 4-9)
Hoary verbena (zones 3-8)
Lance-leaf coreopsis (zones 4-9)
Lavender hyssop (zones 2-6)
Maximilian sunflower (zones 3-9)
Milkweed – especially butterfly milkweed, common milkweed or swamp milkweed
Ohio spiderwort (zones 4-9)
Partridge pea (zones 3-9)
Prairie ironweed (zones 3-7)
Purple prairie clover (zones 3-8)
Rattlesnake master (zones 3-8)
Smooth penstemon (zones 3-8)
Sweet Joe Pye weed (zones 3-8)
Virginia mountain mint (zones 3-7)
White wild indigo (zones 4-9)
Wild bergamot (zones 3-8)
Wild lupine (zones 3-8)
Yarrow (zones 4-9)