When it comes to shaping our saplings, we know the drill: the dormant season is the best time for pruning.
Yet, there are about 2,500 trees that go against this golden rule–palm trees!
Unlike many tree species, palms don't follow a strict pruning schedule.
The best palm tree maintenance relies on the appearance of your individual tree. Learn how to determine if it's time to trim your palm tree below.
When should you trim a palm tree?
You only need to prune palms to rid trees of brown fronds (palm leaves), flowers or fruit.
This means your pruning project isn't subject to a specific time of year. Instead, the best time to prune palm trees is when it looks like they need it. Really!
To be safe, though, look up and examine your palms before hurricane season. Remove any dead fronds from your palms to prevent storm damage.
What is the proper way to trim a palm tree?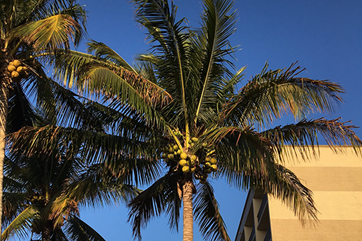 You should never prune any green fronds. Only remove dead or dying fronds.
Think of your palm tree like clock. You can prune from 9-to-3 or even from 10-to-2. But never prune your palm tree down to the 11-1 position. That's called hurricane pruning, and it's bad for your tree.
The more fronds removed from your tree, the more stressed the tree will become.
If you're trimming a small palm tree, check out our step-by-step guide on the best way to trim palm trees. Wondering how to trim tall palm trees? Typically, you should call a certified arborist to ensure a safe prune–for you and the tree.