Sure, daffodils and tulips scream spring, but once the ornamental trees start putting on their fancy floral show, you know the season has officially started.
In fact, it feels like almost overnight, bright blooms are emerging from what were sad, gray branches just a moment ago.
But since weather can rise and fall in many areas of the country as we wait for spring to settle in, you might be wondering when flowering trees actually bloom in spring and what are the best flowering trees for year-round color -- as well as a spectacular early season display.
Let's dig into the earliest spring show stoppers and find out what they have to offer.
Which Trees Bloom in Spring?
Soft, subtle pinks and brilliant whites catch your eye, and vibrant yellows force you to turn your head, doing a double-take. The trees are blooming!
It's a magical time of year when life reemerges in the landscape. And the trees steal the show.
Here are trees that display some of the most in-demand colors of the season, as well as a look at what flowering trees bloom the longest.
Trees With Pink Flowers in Spring
Pinks can be soft and loud -- you get to choose which way you want to go. You can get a glimpse of this magical color and attract birds at the same time with a variety of shades from flamingo to raspberry.
These trees with pink flowers in spring may be your favorites, whether you prefer the blushing tones or the louder magenta varieties.
Eastern Redbud - The early spring flowers on this tree are breathtaking, opening from reddish-purple buds to rosy-pink blooms, followed by heart-shaped leaves. The Eastern redbud's rounded shape can reach 20 to 30 feet tall and boasts yellow fall color. Native in the eastern U.S. and growing in USDA zones 4 to 9, this tree prefers well-drained soil. Cultivars of note include 'Floating Clouds', 'Forest Pansy', Lavender TwistTM, 'Merlot', and 'Oklahoma'.
Chinese Redbud – This tree is similar to Eastern redbud, but usually smaller and the rosy-purple flowers are showier. Many trees are multi-stemmed shrubs less than 10' in height. It blooms slightly earlier than Eastern redbud. It is less hardy and grows well in USDA zones 6-9. Cultivars of note include 'Avondale', with deep rose-purple flowers, and 'Don Egolf', producing super abundant, deep rose-mauve flowers.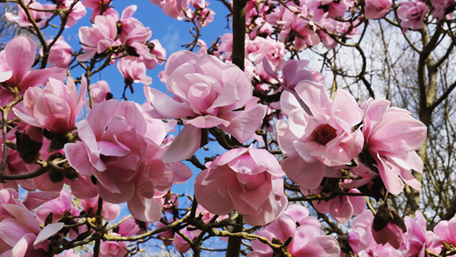 Saucer Magnolia - This early bloomer has rosy-pink flowers with dark purple streaks that at full size are up to 4 inches across, resembling tea cups. The gray bark of this tree that is hardy in USDA zones 4 to 9 shows off the blooms quite well.
Lily Magnolia - Goblet-shaped six- to seven-petal flowers ranging from pink to reddish-purple open in April and early May on this tree, often the first sign that winter is almost behind you. The lily magnolia grows to 8 to 12 feet tall and wide with a compact, rounded form. Rich, well-drained soil and full to partial sun will yield a happy tree in USDA zones 5 to 10.
Pink Dogwood - Perfect for small spaces, this tree grows to 20 to 40 feet tall in USDA zones 5 to 9. The horizontal branches make an appealing silhouette when leafless in winter, and then the iconic pink flowers emerge in April and May. Egg-shaped, dark green leaves that taper to a point adorn the tree throughout the year, turning red or purple in the fall.
Flowering Cherry - This gem blooms in late winter to very early spring with pale or neon pink clouds of what can only be described as joy. Growing 15 to 25 feet tall and wide in USDA zones 5 to 8, the cherry is the first to bloom in many areas and is stunning. Leaves turn a sparkling gold in fall on this tree.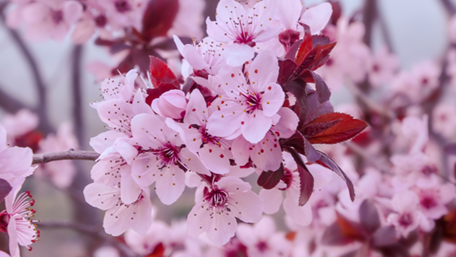 Purple Leaf Plum – a 15-30 foot tree with reddish-purple foliage and light pink flowers for use in USDA zone 5-8. Two of the most common cultivars include: 'Thundercloud' and 'Atropurpurea'. Additionally, the Blireiana plum, which is fragrant and double-flowered, is a poplar purple leaf plum and Japanese apricot hybrid.
Pink Trumpet Tree – A small (15-20 feet) tree with large (2-3 inch), extremely showy light pink to purple flowers good for USDA zones 10-11. There is also a Yellow Trumpet Tree and an Apricot Trumpet Tree.
Trees With White Flowers in Spring
White is bright and bold and clean … it brightens up the landscape in spring like no other color.
From creamy white to pure white and small, innocent petals to big, bold blooms, these trees with white flowers in spring are begging to be planted in your landscape.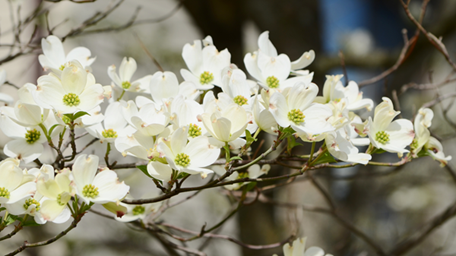 Hyperion Dogwood - This tree, which thrives in USDA zones 6 to 9, is one of the few flowering trees that prefer shade. Glorious white blooms appear heavily in spring on an airy, multi-stem form that grows 15 to 30 feet high and 15 to 20 feet wide. Red berries adorn the tree in fall, drawing birds. In fall, the tree changes into shades of gold, purple, and orange.
Chinese Fringe Tree – A small, white-flowered, drought-tolerant tree good for USDA zones 6-8. The flowering is showier than the native white fringe tree. Two growth forms are available in the U.S. One is a tree with a distinct trunk and large, dark, dull green leaves, and the other a shrubby form with rounded to oval-rounded lustrous dark green leaves. The shrub form is often sold as 'China Snow'. Of special interest are the cultivars: 'Ivory Tower' and 'Tokyo Tower', which are narrow upright columnar trees. Columnar trees are often desired for landscapes where homes or buildings are close together.
Star Magnolia - Depending on where you live in USDA zones 4 to 9, you can have magnolia blooms as early as February. These trees are among the first to bloom in most gardens. Their white, star-shaped flowers emerge before their dark green leaves, and a sweet fragrance comes with them. They will last until the summer sun comes out.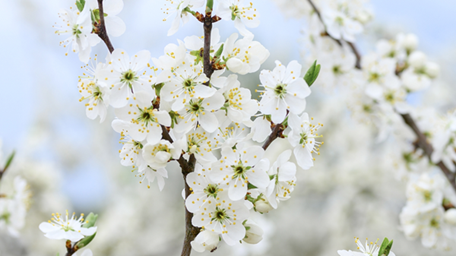 Wild Plum - Pretty, five-petaled white blooms open in March before the leaves on these trees, making them another harbinger of spring in USDA zones 3 to 8. In fall, the tree turns brilliant shades of red and gold.
Serviceberry - This deciduous tree is covered in pure-white blooms on soft gray bark long before other trees stir in March and April. Once the blooms fade, the tree produces edible berries that birds love. Growing to a height of 15 to 25 feet tall and wide, this tree grows 12 to 24 inches a year in full sun to partial shade in USDA zones 4 to 8.
Trees With Yellow Flowers in Spring
Nothing says happy like yellow. Whether it's a soft touch of eggshell or a bold lemon, yellow takes away all the winter blues with just one look.
Whether you hope to add some shade, increase privacy, or just because you love a tree that produces sunny yellow blooms, these trees with yellow flowers in spring won't disappoint.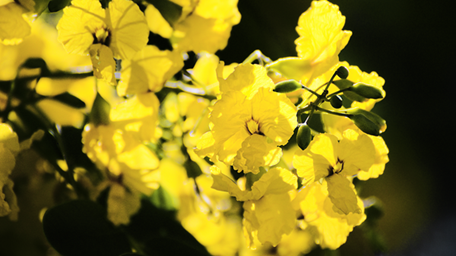 Tipu - This shade tree can grow to over 60 feet tall and wide in warmer climates like USDA zones 9 to 11. Bright yellow, pea-shaped flowers cover the canopy in spring and into summer, and then turn into large brown seed pods.
Museum Palo Verde - Thousands of five-petaled yellow blossoms adorn this tree in spring, attracting pollinators in USDA zones 8 to 9. This tree likes full sun and grows to 20 to 30 feet tall and wide, providing filtered shade.
Flowering Trees with Longest Bloom
Sure, there are few thrills that compare to going outside on a sunny day in early spring, feeling a warmth you've missed all winter, and seeing a tree covered in swelling buds and emerging flowers.
It's a feeling you don't want to go away anytime soon. And you can achieve that goal, simply by looking at what flowering trees bloom the longest and planting them in your landscape.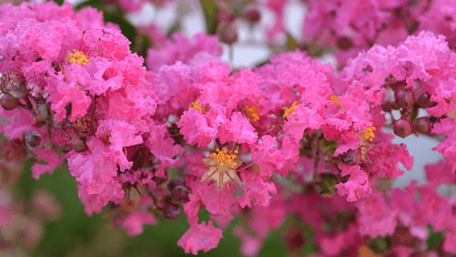 Crape Myrtle - The flowers remain in bloom on this tree between 60 and 120 days, making them one of the longest bloomers. The crape myrtle is perfect in USDA zones 6 to 10, growing to 20 to 30 feet tall and 10 to 15 feet wide. Considered a fast grower, this tree can grow 3 feet per year, loves full sun, and is drought tolerant. They can handle most soils, but like good drainage. Varieties can provide white blooms, as well as those in shades of red, purple, and pink.
Southern Magnolia - Glossy dark green leaves host large, creamy white blooms in spring, and the fragrant flowers keep going all summer long. Some of the flowers, which bloom May through June, can reach up to 12 inches in diameter. This tree can vary in height from 20 to 80 feet high with a 40-foot spread, depending on the variety, in USDA zones 6 to 10. A slower grower, this tree rises 12 to 24 inches per year.
Why is My Flowering Tree Not Blooming?
So you've planted your flowering tree and are patiently waiting for it to bloom, but nothing is happening. What gives?
There are many possible reasons your flowering tree is failing to bloom. Here are a few of the most common.
The tree may not be old enough. Trees must have fully matured before they can flower, which can take multiple years for some species.
The tree may not have received sufficient water.
The flower buds could have been damaged by frost.
You may have pruned the trees at the wrong time, removing branches that contain the buds that would have become the following spring's flowers. Pruning in late winter or early spring can remove the flowering wood.
Your soil could be deficient in some nutrients.
Your tree may receive insufficient sunlight. Many trees need 6 to 8 hours of direct sunlight in order to bloom properly.
Some trees, such as fruit trees and some crabapples, bloom heavily one year and sparsely the following year (i.e. alternate bearing fruit trees).


Flowering Fruit Trees
Spring blossoms aren't limited to ornamental trees. Flowering fruit trees also signal an end to winter with pretty pinks and soft whites, as well as providing bees and other pollinators with an early source of nectar and pollen.
What fruit trees have flowers? Let's take a look at the most common and their blooming colors and timing.
Apple - Apple trees typically bloom with pink flowers between mid-April and mid-May after having met a certain number of required hours of chill during winter dormancy. This can amount to between 500 to 1,000 hours, depending on the apple cultivar. A Granny Smith, for instance, only requires 400 hours of chill time versus a McIntosh that requires 900 chill hours. The temperature in your region will dictate apple tree bloom time. If the apple tree you plant is hardy, it grows best in USDA zones 3 to 5. If it is long-season, it grows best in USDA zones 5 to 8.
Peach - Peach trees boast showy pink flowers early in the spring, followed by large, juicy peaches in summer. They generally prefer USDA zones 4 to 9 and full sun. Dwarf varieties grow 4 to 6 feet tall, while standard varieties grow up to 25 feet. Peach trees prefer sandy soil with good drainage. Peaches need at least 600 chill hours at 45 degrees Fahrenheit or below to trigger fruiting. Nectarines are nearly identical to peaches. They only differ by having the gene for a hairless fruit (nectarine) versus peaches with the gene for a hairy fruit.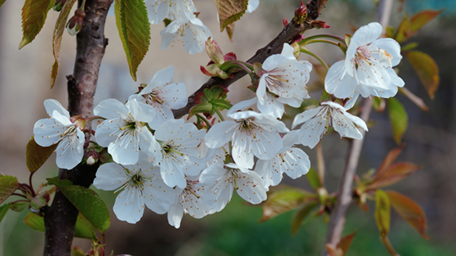 Pear - Pears offers sensational clouds of fragrant spring blossoms, followed by fruit-laden branches in summer, and then fall foliage ranging from orange to burgundy to red and sunny yellow. Most can grow to 30 feet tall in USDA zones 4 to 8. There are three main varieties of pear trees: European, Asian, and hybrid. European types typically need a winter chill of 600 to 900 hours at 45 degrees Fahrenheit or below. Asian pears need 300 to 600 hours of chill time, and hybrids will vary.
Plum - Offering purple leaf foliage and fragrant white or pink flowers in spring, this ornamental landscape tree can reach 15 to 25 feet in height and offers a round-shaped crown. The flowering plum tree also offers a fast, dependable growth rate – gaining between 3 and 5 feet of height each year. Grow this tree in USDA zones 4 to 9 to enjoy its unique leaf and flower color. Do not overlook the plum-apricot hybrids (Pluots) or apricot-plum hybrids (Apriums).
Why Are My Fruit Trees Not Flowering?
You've planted your fruit tree, and it seems happy, but it's not blooming or bearing fruit. We know this can be frustrating, but understanding the reasons why your tree isn't delivering the goods can help you better maximize their blooms.
Here are the most common reasons trees may be shy to bear fruit:
Your fruit tree may still be too young to go into fruit-production mode. Trees need to reach a fruiting maturity. This is typically 2 to 5 years for apple trees, 2 to 4 years for peach trees and 4 to 6 years for pear trees.
Fruit trees require pollination to bear fruit. If your tree isn't self-pollinating, then it needs a compatible pollinator tree nearby, as well as adequate bees and birds to help pollination along. Without these things, your tree may bloom, but will not fruit.
Proper pruning is required to give branches the air circulation and light filtration needed to bear fruit. Under-pruning and over-pruning can limit fruit production.
If your fruit trees are planted too close together or too near buildings or structures, they will compete for light and nutrients and have a harder time producing fruit.
Adequate soil health is essential for healthy fruit trees. Having your soil tested can show nutrient deficiencies.