Do you long for warmer weather after a long winter?
Do you impatiently wait for spring color, wishing it would come sooner every year?
Then the Eastern redbud tree may be the one for you -- offering some of the earliest spring flowers, ranging in white to soft pink to electric fuchsia. Though it usually shares the spotlight with flowering magnolias, dogwoods, cherries, and plums, the Eastern redbud often steals the show.
Whether you already have an Eastern redbud in your yard or maybe you're thinking about planting one, we can help you with your eastern redbud tree identification and offer some care tips so you can get many years of stunning spring blooms.
What Does An Eastern Redbud Tree Look Like?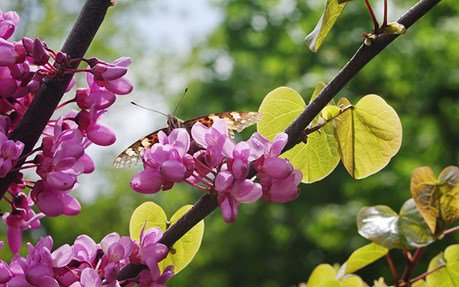 Being reasonable in size, eastern redbuds can be used as ornamental specimens near your patio or in your front yard. They grow 20- to 30-feet tall and 25- to 30-feet wide, giving small landscapes just the right touch of color and interest.
Showy flowers develop in clusters before leaves in early spring. Eastern redbud tree flowers are pea-like and rosy pink with tinges of purple on many varieties. The redbud's branches bear flowers and fruits.
After exhibiting a stunning spring show, eastern redbud's heart-shaped leaves don't disappoint with bright greens or burgundies, depending on the variety. They flutter and dance in the breeze, adding charm to your landscape. Their bark brings a nice, dark contrast, with their attractive, rounded crown.
Eastern redbuds also come in weeping varieties that grow a bit smaller for those intimate spots where you crave impact.
Eastern Redbud Tree Facts
Eastern redbud trees are native to North America where they grow in woodlands and along creeks and rivers. Found naturally from Texas to the Great Lakes, they adapt to many soils.
While their blooms are beautiful to look at, early settlers found the blossoms to be delicious additions to their salads. And the bark got some love, too -- early folk healers used it to treat common maladies.
George Washington is even known to have included eastern redbuds in his Mount Vernon landscape. Thomas Jefferson also included them in his gardens at both Monticello and Poplar Forest.
Eastern redbud is also an important resource for early-season pollinators, such as spring mining bees.
Best Eastern Redbud Tree Varieties
If you're looking to add this special tree to your yard, try one of these popular eastern redbud tree varieties:
'Forest Pansy' - New leaves emerge in a vibrant burgundy color and flowers are more purple than other varieties. Leaves turn green as they mature unless you're in a cooler region where foliage can remain a bit purple.
'Hearts of Gold' (pictured) - Chartreuse foliage appears as pink blooms fade and keep a butter yellow color longer when watered well.
'Dwarf White' - Petite and slower growing, this eastern redbud produces tons of white blooms.
'Appalachian Red' - Deep colored buds unfurl to reveal neon pink blooms on this variety.
'Ruby Falls' - This purple-leaved weeping redbud makes a dramatic statement as an accent tree.
'Merlot' - This tree with glossy purple foliage looks similar to 'Forest Pansy' but is a better choice if you live in a warmer climate.


Eastern Redbud Tree Care Requirements
Most eastern redbud tree varieties are fairly easy to maintain with timely watering, fertilization, and pruning.
Pay attention to these eastern redbud traits to ensure a happy plant.
Eastern Redbud Tree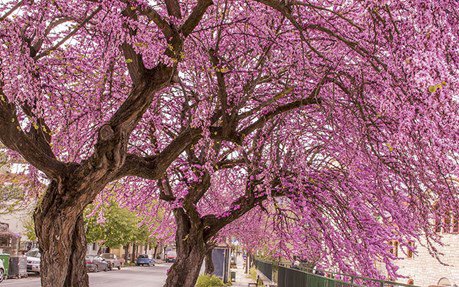 Grow Zones: Eastern redbuds grow best in USDA hardiness zones 4 to 9
Where to plant: Eastern redbuds tolerate most soils, but make sure you don't plant them in wet, swampy areas.
Height/spread: This ornamental tree will grow 20- to 30-feet tall with a 25- to 30-foot spread. Dwarf varieties can grow to 12 feet tall.
Sunlight: The eastern redbud tree prefers full sun. This helps them bear maximum blooms.
Flowering dates: Eastern redbuds flower between March and April and blooms last for two to three weeks.
Best time to prune: Prune eastern redbuds during their dormant period, preferably fall. You can trim them a bit in late spring -- just after the flowers drop. Removing crowded branches can allow sunlight in and reduce disease attacks.
Deer resistance: Eastern redbud trees are resistant to deer.


Potential Threats
Healthy eastern redbud trees that are properly watered, fertilized, and growing in well-drained soil and at least four hours of sunlight keep most pest and disease problems away.
But stressed trees that are weak can become susceptible to disease-causing pathogens. These include verticillium wilt, canker, leaf spots, and dieback. Pests that can impact redbuds include spider mites, redbud leafhopper, and scale. Early identification and removal of diseases and insects are necessary to save affected trees.