If you're looking for white, wispy, softly fragrant flowers to dress up your home landscape in late spring and early summer, look no further than the fringe tree's flowering beauty.
And when the petals fall, they create what looks like a light blanket of snow under the tree.
With a smaller stature, the fringe tree works near a patio, under power lines, in smaller yards, or in mixed shrub borders. What's not to love?
Maybe you already have a fringe tree in your yard or you're thinking about planting one. Here are some popular fringe tree varieties and some care tips to make sure your tree blooms for years to come.
What Does a Fringe Tree Look Like?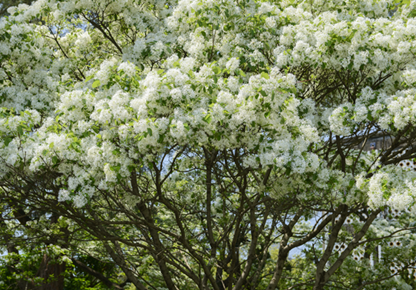 A fringe tree only grows to 10 to 20 feet tall, so it can fit in almost any garden.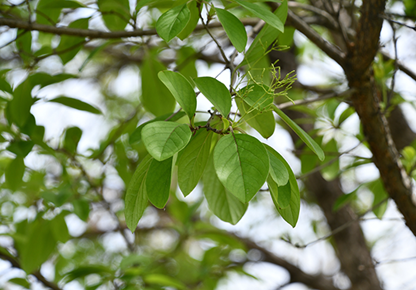 Its most outstanding feature is its fragrant white flowers that are grouped in 6- to 8-inch long fleecy, thin hanging bands and bloom in May to early June. The flowers cover the tree just as the fringe tree leaves begin to emerge. In summer you can enjoy a neat, oval-shaped canopy of dark green leaves that are wide and spear-shaped, turning yellow in autumn.
After the flowers fall, female fringe trees form attractive, blackish-blue fruits that attract birds.
Fringe tree bark is scaly with dark brown ridges and red furrows. This tree likes sun and moist, well-drained soil and tolerates drought and air pollution fairly well. While its branches are strong and can withstand wind, its flowers are delicate; if you want them to linger as long as possible, plant them in a location that is sheltered from too much wind.
Fringe Tree Facts
This charming tree, native to eastern North America and a member of the olive family, naturally grows in moist woods and on streambanks and hillsides.
Because its long, creamy flowers are tassel-like, the fringe tree has sometimes been called Old Man's Beard.
The fringe tree's bark has been used as an herbal remedy for gallbladder inflammation. Crushed fringe tree bark has also been used to treat wounds.
Popular Fringe Tree Varieties
If you're looking to add this special tree to your yard, try one of these two popular fringe tree varieties:
Chionanthus virginicus - This is the native white fringe tree we've been discussing in this blog.
Chionanthus retusus - The Chinese fringe tree is tall and graceful with lush branches and leaves. Popular varieties include 'Rubrum,' 'Pizazz,' 'Burgundy,' 'Carolina Moonlight,' 'Snowdance,' and 'Emerald Snow.'


Fringe Tree Care
Fringe trees are fairly easy to maintain. Pay attention to these fringe tree care tips to ensure a happy plant and bountiful blooms.
Grow Zones: Fringe trees grow best in USDA hardiness zones 3 to 9
Where to plant: Plant in moist, well-drained soil.
Height/spread: This ornamental tree will grow 12- to 20-feet tall when mature. The fringe tree growth rate is roughly 6 to 10 inches per year.
Sunlight: Prefers full sun.
Flowering dates: This tree grabs attention in May to early June. Blooms last approximately two weeks.
Best time to prune: Fringe trees bloom on the previous season's growth, so do not prune it during the dormant season or you may lose all of the buds. When older, the tree actually requires little pruning. But you do want to cut damaged, weak, or dead branches.
Deer resistance: Fringe trees are rarely damaged by deer.


Potential Threats
The fringe tree is quite easy to care for, but there are a couple of pests this lovely tree may encounter.
Keeping a fringe tree healthy by planting it in the right place, and watering and fertilizing properly, will help it fight some pests like scales and spider mites.
Borers can take advantage of stressed trees to tunnel their way inside and feed on the bark. Avoid injuring fringe trees to keep them safe. Fringe tree is a secondary host for emerald ash borer and should not be planted in areas where these invasive insects are active.