A deep green, dense foliage, and very fast growth make the Leyland cypress tree a favorite for easy-to-establish privacy screens in many areas of the U.S.
Think you have one of these elegant evergreens in your yard or want to add some? Here are some important facts about the tree and tips for planting Leyland cypress so you can better care for them.
What Does a Leyland Cypress Look Like?
The Leyland cypress is technically a hybrid tree that came about from the crossing of two native Pacific trees: the Monterey cypress and the Alaska cedar.
This evergreen grows in a pyramidal, cone shape with flattened sprays of bluish-green, scale-like leaves that are soft to the touch. It offers scaly, red and cinnamon-colored bark.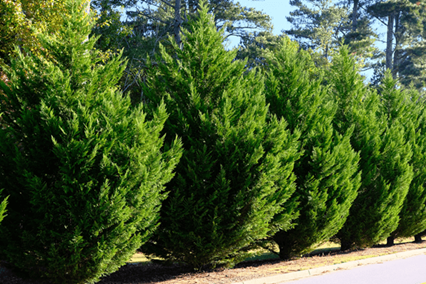 Leyland cypress pine cones are small, popping up throughout the tree's foliage. They are round-ish in shape and gray or chocolate brown in color.
A fairly salt-tolerant tree, this densely foliated cypress thrives where many others don't, making it a popular choice.
Leyland Cypress Tree Facts
Leyland cypress trees are considered very fast-growing, increasing 24 inches or more per year. This makes them great privacy screens when you're seeking a bit of seclusion from your neighbors near your patio or outdoor entertainment area.
While it doesn't provide a ton of food for wildlife, it does offer a great winter cover for songbirds.
Considered a natural hybrid, the tree gets its name from the man who first planted its seed: C.J. Leyland. The typical Leyland cypress lifespan is 10 to 25 years.
Leyland cypress wood has been used for fence posts, furniture, boat building, and even to make musical instruments like flamenco guitars.
Leyland Cypress Tree Care
Grow zones: Leyland cypress grows well in USDA hardiness zones 6 to 10
Where to plant: Plant this tree in early spring to give it a full season of growth before winter arrives. When planting them in groups as a screen, remember to keep 20 to 25 feet between them, so they don't crowd each other at maturity. The Leyland cypress grows best in any type of well-drained soil. If you want a full visual screen when they are small and when they are large, plant two rows spaced 20 feet apart with trees within rows spaced 10 feet apart, then before the trees begin to touch remove every other tree in each row, creating an offset pattern.
Height/spread: The Leyland cypress can grow up to 60 to 70 feet tall with a 15- to 25-foot spread.
Sunlight: This tree grows best in full sun or partial shade with a minimum of 6 hours of direct, unfiltered sunlight. Do not plant this tree in a fully shaded spot.
Flowering dates: This tree does not flower. It does provide gray to dark brown pine cones in fall and winter.
Best time to prune: This tree is loved for its naturally attractive shape that requires little to no pruning. Dead limbs can be removed periodically to improve health and aesthetics.
Deer resistance: The Leyland cypress has soft, delicate foliage that can be easier for deer to consume than other evergreens with prickly leaves.


Potential Threats
Good news: Leyland cypress is a relatively pest-free evergreen. Bagworms, though, have been known to infest evergreens like Leyland cypress. Mild infestations can slow the tree's growth. They produce egg-containing bags during winter and early spring. Removing them by hand can help prevent problems, but luckily several parasites and predators also feed on bagworms, naturally keeping their populations under control. Professional arborists can help control bad infestations with bacterial or contact insecticides.
Planting these trees in poorly-drained soils or too close together can cause Leyland cypress problems. They are susceptible to phytophthora root rot in poorly-drained soil. When grown too near to each other, they often get canker diseases, such as Seiridium canker. Avoid these issues by planting trees in well-drained soil and maintaining an adequate distance between trees.