Sure, it's cold outside. But that doesn't mean you can't have a little fun in your front yard, boosting your curb appeal in the process.
In fact, you can celebrate the winter season -- no matter how cold the weather -- with a little bit of evergreen and lighting decor that make your home warmer, cheerier, and more welcoming and inviting.
While it may seem overwhelming, decorating for the seasons doesn't have to be. Try some of these winter front porch decor suggestions to brighten up your holidays.
Ways to Make Your Front Porch Inviting This Winter
Your porch is normally bustling with fresh blooms cascading out of pots and floral wreaths.
Wintertime presents a challenge because it can seem lifeless. Try one of these 8 winter front porch decorating ideas to brighten things up.
Creative Containers - Urns and glazed pottery planters can add some sizzle in spring and summer, but they are also a way to warm up your winter. Fill them with live evergreens or interesting branches like birch, curly willow, red twig dogwood, or eucalyptus. Use floral foam at the bottom to keep all the pieces in place.
Pretty Pinecones - Decorate baskets or containers with pinecones to add these seasonal, textural classics to your front porch scene.
LED Lanterns - Add a warm nostalgic glow reminiscent of a winter cabin with LED-powered outdoor lanterns.
Entryway Lighting - While sunlight may be limited, adding light to your porch can bring some seasonal joy and add safety and security to your front walkway and porch. You can use formal landscape lighting on pathways or to cast moonlight on the area or you can wrap string lights around front columns or weave them through container arrangements.
Decorative Doormat - Add a cheerful place to wipe the snow off your guests' boots with a fun and festive doormat. It can offer a seasonal outdoor scene of evergreens and cabins or a winter touch of snowmen and snowflakes. Even cardinals resting on evergreen branches can be a decorative touch that fits in with the time of year.
Vintage Touches - Bring your winter scene up a notch with themed accessories. Create a nostalgic display with a vintage winter sled or old pair of skis that are painted to match your home colors and made to look worn and rustic.
Festive Wreaths - Wreaths are a great and easy way to add color and interest to your front door. You can buy a ready-made seasonal wreath or make one of your own using a grapevine base or one full of seasonal sprigs. To add the pine fragrance of the season, you can use real evergreen branches and add pinecones and a seasonal bow or other touches like holly berry branches or white feathers to create the perfect wintertime look.
Winter Windows - Window boxes don't have to be left empty during the season. Use fresh-cut evergreen sprigs, holly berry branches, dried hydrangea and pinecones. Add glittery holiday bulbs and string lights for an extra touch.
Winter Potted Evergreens for Front Porch
Eager to add that special winter touch to your front porch for the season? Try some evergreens that provide the perfect scents and textures for the holidays and beyond, amplifying your special magical moments with family and friends.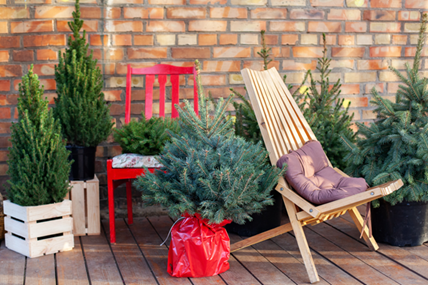 These evergreens for pots in winter are great options for you to consider. And they can easily be transplanted in to your yard once you're done using them as container plants or they've outgrown their containers.
Boxwood - Smaller, container-friendly varieties like 'Green Mountain' or 'Green Gem' can be great front porch additions in USDA zones 4 to 9. Their small green leaves provide year-long interest. Keep them in partial shade in winter to avoid winter burn.
Dwarf Conifer - A nice, small, rounded dwarf conifer for winter front porch decor is the dwarf mugo pine. The plant maintains its green color and mounded form without much pruning in USDA zones 3 to 7.
Juniper - These evergreens range in colors from gold to blue, and their unique shape can provide a great cascading effect to containers. Try 'Blue Star' for that silvery blue, compact, rounded shape in USDA zones 3 to 9.
Cypress - Cypress can work great in a container. Similar to boxwoods, they can sometimes be found pruned in shapes like topiaries. False cypress offers interesting golden tones in USDA zones 5 to 8.
Holly - Try holly for a strong structure, bright green foliage, and red winter berries in USDA zones 5 to 9. With these, you'll need to ensure you have a male plant nearby so the females produce berries.
Spruce - Small spruce trees or dwarf varieties can make great container plants as long as you plan on planting them in your yard afterward. Try dwarf Alberta spruce or globe spruce. Check the species for the best USDA grow zones; Colorado blue spruce grows well in USDA zones 3 to 7.
Tips on How to Care for Potted Evergreens in Winter
The best-potted evergreens are those that receive the right amount and type of care. To provide their best seasonal color and texture, you want to make sure they are getting the attention they need.
Follow these tips to ensure potted evergreen success.
Select the right container. Choose a planter that is one to two times wider than the root ball of your plant. Size up the container annually if you choose to keep the plant potted.
Choose a pot with adequate drainage. Evergreens do not like wet roots.
When watering evergreens in winter, water them generously until autumn, and then add mulch to the surface.
Provide partial sunlight; full direct sunlight can cause needles to dry too fast.
Move smaller, susceptible containers under your porch shelter before strong winter storms.
Keep rock salt that you use to melt the ice away from your containers.
Prune damaged branches.
Only fertilize evergreens in spring so they have enough time after mid-summer and through fall to harden off in preparation for winter.
How to Prevent Winter Burn on Evergreens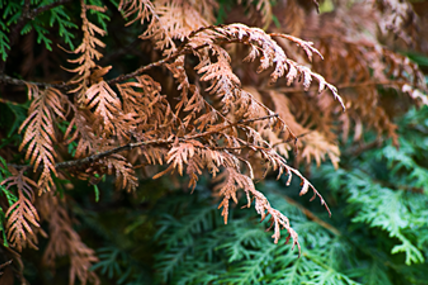 While you want the festive touch potted evergreens provide, you likely don't want the brown or yellow edges of leaves or needles that can appear when winter damage sets in.
Some of these pointers can ensure your evergreens don't suffer winter burn:
Keep potted evergreens properly watered throughout the growing season until freezing. Soil in containers may freeze much faster than soil in the ground.
Maintain a layer of mulch on top of the container soil to help retain soil moisture throughout winter.
Keep potted evergreens out of full direct sun (6 or more hours) to ensure the needles don't dry excessively fast.