Looking for a low-maintenance hedge that is similar to boxwood but offers a little something special? Then the Japanese holly may be the one you're seeking.
An evergreen providing year-round greenery, Japanese holly has small, shiny green leaves. The dense, rounded bushes resemble boxwoods but offer blackberries for additional interest.
There are a few varieties to choose from, so you have options to fit your specific garden.
Maybe you already have a Japanese holly in your yard or you're thinking about planting another one. Here are some popular Japanese holly varieties and some care tips.
What Does a Japanese Holly Look Like?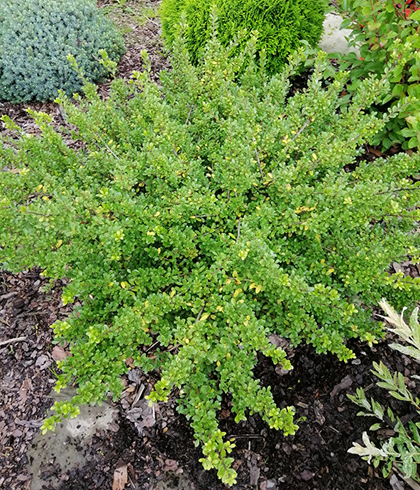 Japanese holly is a handsome broadleaf evergreen shrub.
It's slow-growing, fine textured, and comes in more than 500 cultivated varieties. Sometimes referred to as the box leaf holly because it resembles a boxwood, the Japanese holly actually has darker, more lustrous foliage than boxwood and is less prone to insects and diseases.
Japanese holly leaves are egg-shaped and arranged alternatively on the plant's stems. When both male and female plants are present, small, round, purple-black fruits will appear.
Though it prefers sun and light, moist, acidic soil, Japanese holly is tolerant of shade, drought, and urban conditions.
Japanese Holly Facts
The Japanese holly is a native of Japan and East Asia, usually found in woods and wetter lowlands and mountains all over Japan. Today it is one of the most popular landscape plants in the U.S.
This shrub is often used to make topiaries because it can tolerate the necessary pruning.
The species name Ilex crenata means "with shallow, rounded teeth," describing the subtle edges on its small green leaves.
Popular Japanese Holly Varieties
If you're looking to add this special shrub to your yard, try one of these popular Japanese holly varieties:
Ilex crenata 'Convexa' – If you are Looking for a taller shrub for privacy, This variety reaches 5 to 6 feet tall. It is known to heavily bear black fruit, which adds interest to the landscape.
Ilex crenata 'Dwarf Pagoda' - This unique variety reaches 2 feet tall with a very compact, dense-growing habit.
Ilex crenata 'Lemon Gem' - if you'd like a more yellow color in your landscape, try this smaller shrub that doesn't grow taller than 3 feet. It begins with yellow foliage in spring and that turns to more lime green in summer.
Ilex crenata 'Sky Pencil' - For a more narrow shape that adds a vertical element to your yard, try this variety. It can grow 6 to 8 feet tall.


Japanese Holly Care
A fairly low-maintenance shrub, the Japanese holly is a great addition to any landscape. Keep in mind these Japanese holly care tips to ensure plant success.
Japanese Holly
Grow Zones: Japanese holly grows best in USDA hardiness zones 5 to 8.
Where to plant: Plant the Japanese holly in loose, loamy soil with good drainage. It also prefers slightly acidic soil pH.
Height/spread: This evergreen shrub will grow 5 to 10 feet tall and 5 to 8 feet wide, depending on the variety.
Sunlight: The Japanese holly prefers full sun to partial shade. This equates to roughly 3 to 6 hours of direct sunlight on most days.
Flowering dates: Small, white, four-petaled flowers arrive in late spring and attract pollinators. Flowers give way to small, black, round fruits.
Best time to prune: Japanese hollies don't need much pruning -- just a bit here and there to maintain their desired shape. Remove dead, diseased or damaged branches as they show up. They can handle light pruning from spring to early fall. Save any bigger pruning for late winter.
Deer resistance: Do deer eat Japanese holly? Luckily, this shrub is deer-resistant.


Potential Threats
The Japanese holly is quite easy to care for, but there are a couple of pests and diseases this wonderful hedge may encounter.
Southern red mites are Japanese holly pests that usually attack in spring and fall. They feed on the undersides of leaves. Symptoms of feeding include light yellow speckling on leaves. Eventually, the leaves will turn brown and then drop.
Blackroot rot disease can also impact Japanese hollies. Those with extensive root rot will usually decline and die during dry periods.
If you live where fall weather is cool and wet, Phytophthora Leaf and Twig Blight may infect the leaves and stems of Japanese holly. The disease is characterized by purple-black leaf spotting, defoliation, and the development of twig cankers. Leaf spotting frequently begins on the leaf margin and on the lower part of the plants in late fall. The disease progresses up the shrub during winter. Twigs dieback and cankers develop on larger stems later in winter.
A certified arborist can help you gain control of southern red mites and check for black root rot disease on your Japanese hollies.