Oh, Christmas tree! There's nothing more nostalgic than bringing a live evergreen tree into your home for the holidays.
The pine smell invigorates the winter senses and adding that green element to your home brings cheer.
In fact, this tradition isn't new. The Romans used to decorate their homes and temples with evergreen boughs to symbolize the fact that farms and orchards would be green and fruitful again. The Druids also decorated their temples with evergreen boughs as a symbol of everlasting life, since the evergreen stays green all year long even in the depths of winter.
If you need any more convincing, consider the fact that living trees are also eco-friendly. You can even keep one in a container and then replant it outside after the holidays.
Let's talk about the different types of live Christmas trees and how to care for them to ensure a holly jolly season for you and your family and friends.
How to Pick the Perfect Christmas Tree….Things to Consider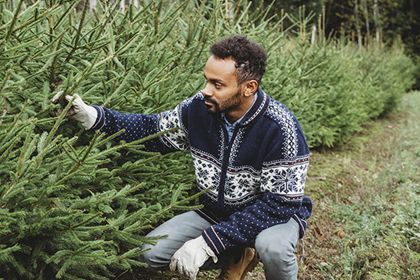 First, you want to make some preparations before you type "Christmas tree farm near me" into Google and head out with your boots to seek the perfect tree.
Decide where inside your home you want your Christmas tree. You don't want it near any heat sources, such as fireplaces,radiators or heating vents.
Once you choose a spot, measure the space for height and width. This will help inform you of the appropriate shape and size of tree to select.
Check the diameter of your tree stand, so you can ensure the tree you pick has a trunk that will fit. You should choose a tree stand that is sturdy and holds a good amount of water.
Now you're ready to go find the perfect Christmas tree!
What are the Best Tree Species for a Christmas Tree
There are a couple of things to consider when choosing a specific Christmas tree that would best fit your space, your decorations, and your home.
First, no matter what species you're seeking, you want to select a fresh tree. The needles should be green and shiny, not dry, brown or falling off.
Christmas tree variety and popularity will vary geographically. Here are a few great types of live Christmas trees; check your region for which ones are available nearby. We also offer a thorough pros and cons list of popular Christmas tree species to help you make your selection.
ISA board-certified master arborist R.J. Laverne shares tips for finding the best live Christmas tree at Morse Christmas Tree Farm, watch video below:
Balsam fir - This classic, usually less expensive tree in the Northeast has short, dark green needles, a fragrant aroma, and excellent needle retention. The thin, spire-like top helps this pyramid-shaped tree stand out. What's more, its dense limbs can hold heavy ornaments and larger bulbs.
Fraser fir - This full, compact tree has dark green needles with silvery undersides and a fresh fragrance. Its thick branches can hold most decorations, and you can easily reach interior parts of the tree to hide light cords.
Douglas-fir – This is a budget-friendly option if you live in the Northwest but can be expensive for those living in the Northeast. This tree is usually a bit wider, paler green in color, and has softer needles, which is great for young children. The limbs can be a tad dainty, making them bend a bit if you place heavy ornaments on them. Greenish-blue needles have a sweet scent.
Arizona cypress - If you're in the South, from Texas in the West to North Carolina in the East, this tree's steel-blue, soft needles, and lemony-mint scent make it a great Christmas tree. Small needles and pale to gray-green color ensure a great background for ornaments and lights.
Virginia pine - This tree is one of the biggest sellers in the Southeast due to its sturdy, straight trunk and classic pine aroma. It does, however, have a natural resin that makes its branches and trunk a bit tacky.
White pine - For those located in the Mid-Atlantic region, you'll find the white pine available in most Christmas tree lots. Inexpensive with soft needles safe for little hands, this is a popular choice for families with small children. It has a minimal fragrance as well, making it a good selection for those with allergies. Tinsel and lights dress this one up nice; watch out for heavy ornaments that can slip off the soft needles.
Scotch (Scots) pine - The hardy scotch pine is great for families in the Midwest looking for a soft-needled tree with dark green color and stiff branches that won't buckle under heavy ornaments or light strands. A symmetrical, full-shaped tree that resists shedding, the scotch pine with its lasting aroma is a popular choice.
Monterey pine - For those in the Southwest, the Monterey pine with deep green color, bushy shape, and medium-length needles is a winner. This tree is very fragrant and has strong branches for holding ornaments.
Blue spruce - In the West, the Colorado blue spruce is a favorite for its full appearance, fragrant, sharp needles, and blue-silver color that adds a bit of Christmas magic even before you add the lights. This one has a great symmetrical shape, short needles, mild aroma, and can handle most ornaments.
Tips on Placement and How to Care for Your Live Christmas Tree to Prevent Needle Drop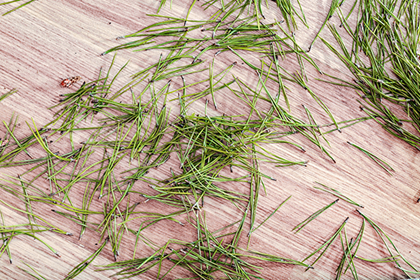 Once you have your tree inside, it's important to follow live Christmas tree care for it right away to ensure it lasts as long as possible and doesn't drop a lot of needles.
Trees from choose-and-cut farms will be the freshest, but if you select a pre-cut tree from a lot, cut an extra inch off of the bottom of the trunk when you get home to maximize its potential to uptake water.
Choose a Christmas tree stand that has as large of a water reservoir as possible. One with longer legs can provide a more sturdy platform for the heavy tree as well.
Once the tree is in your stand, add a lot of clean water as soon as possible. Ensuring plenty of water will increase your tree's needle retention. The first couple of days, the tree may go through more than 1 gallon of water per day. You may have to water daily at first to meet the tree's needs. Monitor the water and ensure it never dips below the bottom of the tree trunk.
As a reminder, keep your tree away from heating vents, radiators, fireplaces, and wood stoves so it doesn't dry out. LED lights produce less heat, so they are a good choice for your tree decorations.
How long can you keep a live Christmas tree indoors? Most Christmas trees should look good and maintain needles for about five weeks using these care tips.
How to Cat-Proof Your Christmas Tree
Cats are naturally curious. So your Christmas tree is certainly an attraction for them. It's big and green and has dangly, fun ornaments. What cat wouldn't want to check it out? Use these tips to prevent a disaster.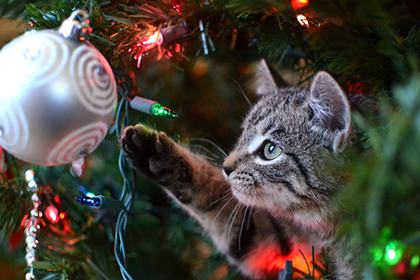 Start with a sturdy tree stand that includes longer legs that is less likely to topple over.
Choose ornaments that aren't as shiny. Think plastic, wood, or felt.
Hang ornaments higher on your tree so they are less within reach of your cat's paws.
Avoid tinsel since it can be harmful to your cat if he or she eats it.
Tightly secure lights on your tree so they aren't dangling and tempting for your cats to bite.
Keep your tree away from furniture that can encourage cats to jump onto or into your tree.
Orange peels are said to deter cats. Peel an orange and place the peels at the base of your tree to keep them away.
Cover the trunk of your tree with aluminum foil; cats don't like the way foil feels on their paws.


What to do with Christmas Trees After the Holidays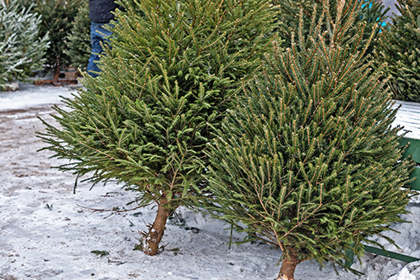 You actually have quite a few options for how to recycle live Christmas trees after it's served as the centerpiece of your holiday spirit and decor.
You can take your tree outside and hang pine cones filled with peanut butter on it to help feed the birds and squirrels.
Take it to a proper Christmas tree recycling center and they will chip it up into usable mulch for landscape beds.
Remove your tree's branches and place them over delicate perennials and shrubs to provide protection from heavy snowdrifts.