Maybe you're starting your landscape from scratch or you're trying to fill in some gaps. Or maybe you want a little privacy corner or are looking for something to border a large area. Either way, you're looking for some shrubs with a great variety to enliven your landscape.
You may, in fact, be looking for some fast-growing shrubs to fill bare areas quickly with lush leaves, while other slower growers establish themselves.
We have a great list for you of some low-maintenance fast-growers as well as slow-growers that bring texture and interest to your space to give you all the options you need when reinvigorating your yard.
Best Fast Growing Shrubs
You're probably seeking fast-growing shrubs because you need to fill a purpose quickly.
Maybe you want privacy or peace and quiet, for instance. Or you may want to hide an eyesore in your space, such as an air-conditioning unit.
Before you choose your plant, you'll want to consider the location, maintenance requirements, expected full size, and planting zone. This ensures you're choosing the right plant to fit in your open spot.
Fast Growing Privacy Shrubs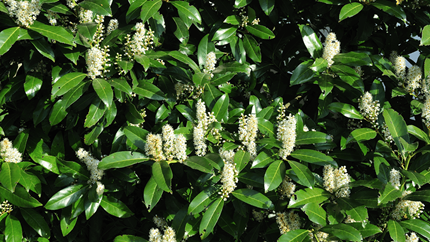 If you're looking for a fast-growing evergreen shrub that brings dense greenery that swiftly fills a space, look no further than cherry laurel.
This one is great as a privacy hedge or screen as it can grow 20 feet tall, spreading twice as wide as it is high.
Tolerant of dry and alkaline soils, this shrub can grow well in shady areas, giving you some options. Use it where you can give it dappled shade, such as at the edges of a woodland garden.
In spring, cherry laurel has fragrant, white flowers. Plant this stunner in USDA zones 6 to 9.
Fast Growing Shrubs for Shade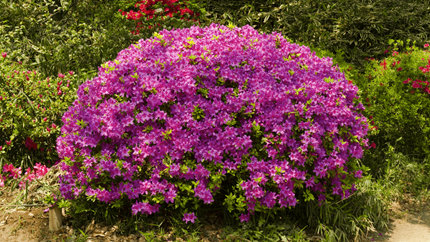 Looking for something that has a bit more color? Choose azalea as your fast-growing flowering shrub of choice. All types of azalea shrubs are known for their long-lasting, brightly colored flowers.
Larger varieties make great hedges, and dwarf varieties remain small and rounded.
For both deciduous and evergreen azaleas, select a spot in your yard that provides some shade, particularly during the mid-day heat of summer.
Azaleas like well-drained soil and don't normally need a lot of pruning, but if you do want to trim them a bit to maintain their size, do so right after flowering to avoid impacting the next year's blooms.
Best Slow Growing Shrubs
While many times you want a shrub that grows fast, sometimes you want a plant that is going to grow at a slower speed.
You're looking for a low-maintenance bush that will stay at a manageable size and provide years of great beauty and curb appeal without a lot of fuss.
These slow-growing shrubs can work for you.
Slow Growing Evergreen Shrubs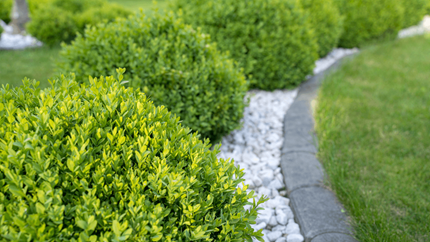 As slow-growing evergreen shrubs, boxwoods can't be beat.
These shrubs are low-maintenance, deer-resistant, and provide year-round color. Use them as specimen plantings, hedges, or as mass plantings in any kind of garden.
They bring a sophisticated, formal look to any landscape. Grow them in USDA zones 5 to 9.
Slow Growing Pine Shrubs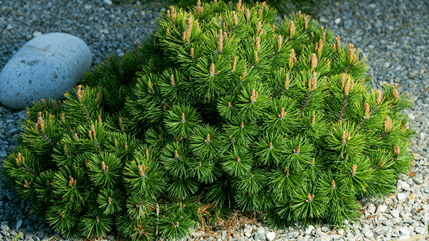 The dwarf mugo pine is a popular dwarf conifer that shows off dark green needles on dense branches.
This slow-growing pine shrub is great for rock gardens, mixed with broadleaf plants, used in mass plantings, or even in containers.
The dwarf mugo pine is a sun lover that grows best in USDA zones 2 to 8. As a slow grower, it'll reach 3 to 5 feet tall and 6 to 10 feet wide in 10 years.
Slow Growing Shrubs for Shade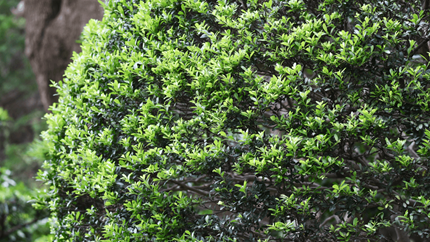 If you're in USDA zones 5 to 9, particularly 5 to 7, many varieties of Japanese holly can work in your landscape.
This slow-growing shrub for shade doesn't require a ton of maintenance and those that produce berries in fall will attract birds to your yard.
Remember to choose a variety that works well in your space and your unique conditions.
Slow Growing Flowering Shrubs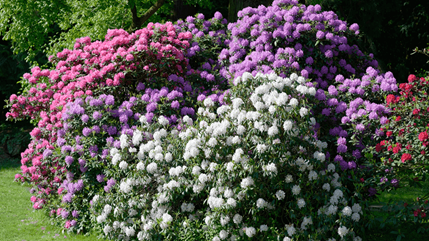 Looking for an evergreen shrub that loves the shade? The hardy rhododendron is your solution.
This slow-growing flowering shrub likes well-drained, acidic soil. Compared to the azalea, the rhododendron has bigger leaves and usually bigger flower clusters. You can expect a mature height in the 4- to 10-foot range. Flowers come in a variety of shades, including white, salmon, pink, red, violet, and lavender.
This shrub grows best in USDA zones 5 to 8.