At first, a pleasant deer nuzzling up against your tree in winter may seem sweet. But it doesn't take long before you notice the ugly damage left behind by that heartwarming scene.
Deer rub up against tree bark to smooth out their growing antlers. But that process can wreck trees, especially the young, thin-barked species deer favor.
Take, for example, Jean's tree in Massachusetts. She planted a maple in the spring, and when she checked up on the tree in winter, she noticed chunks of bark missing. Jean said, "Deer have rubbed antlers against my tree's bark and removed quite a bit of it on one side. Will this young tree survive?"
When deer get too close for comfort, the result is not so pretty. Here's what to do if your young tree is damaged by deer.
How to Stop Deer from Scraping Antlers on Trees
Deer love trees that are easy targets, so the best way to protect your plant is to make it hard to reach. 
Why do deer rub their velvet off their antlers onto trees?
Every spring, deer trade in their old antlers for new ones. New antlers, coated with a furry, velvet-like cover, start to form in the spring.
By fall, the antlers are fully grown, but the velvet coat starts to itch. So, deer look to our trees to smooth out their new crown.
In winter, deer rub their antlers against trees to scrape off the velvet cover. In the end, they have clean, tough antlers and marked their territory on trees just in time for mating season.
How can I fix my trees that were damaged from deer rubbing?
When deer rub their antlers on trees, they strip away the tree's cambium. That's the layer between the inner bark and the outer wood that helps nutrients move throughout the tree.
Unfortunately, when the cambium layer is stripped off all sides of the tree, the damage is done. Now, there's a good chance the tree won't survive many more winters.
But if the damage is only partial, your tree may be able to seal over the damaged area. Over time (several years or more), new bark will grow in and slowly cover the wounded wood.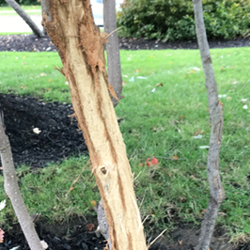 How well your tree will be able to repair itself depends on how many sides of the trunk the deer damaged and the depth of the wounds. Even if the tree does not die, the damage may be so extensive that it may never fully recover or even break off.
If the damage is minimal, you can aid your tree's recovery by doing what we arborists call bark tracing. You essentially cut out the damaged bark, which leaves a smooth wound that trees can repair a bit easier. With a super sharp and disinfected knife, cut about an inch wider than where you see damage, and you should be good!
But if you're unsure what to remove, have a local arborist do it. Because if you do this the wrong way, it can actually damage your tree further. Tricky stuff!
In the meantime, you can help make sure deer don't get their antlers on your tree again.
How can I keep deer from rubbing antlers on trees? Do tree guards work?
The best way to protect your tree is to physically block off deer with a fence or tree guard.
Plastic or mesh tree guards are a quick fix. They wrap right around your tree's trunk and prevent deer from rubbing up against the bark. Or you can wrap your tree loosely in chicken wire or burlap if you'd rather.
If you're serious, opt for a protective fence. You should aim to make the barrier about six feet tall, so the deer can't easily hop over.