One of the joys of Christmas time is cruising around and admiring the many twinkling trees. Hanging Christmas lights on outdoor trees is the perfect way to bring holiday cheer to your home and neighborhood.
Even better, lighting your outdoor trees is easier than you think! Use the steps below to hang Christmas lights on tall outdoor trees.
Guide to Hanging Christmas Lights on Outdoor Trees (Tall and Evergreen)
How many feet of lights do I need for outdoor trees?
Use this simple math trick to determine how many lights you'll need.
Measure around your tree's trunk to find the circumference.

Measure the height of the tree–a guesstimate works.

Decide how far apart you want the lights, typically 2 to 3 inches.

Divide the height by the distance you want between the lights.

Multiply the circumference to see how many feet of lights you need.
Steps on How to Hang Christmas Lights on Outdoor Trees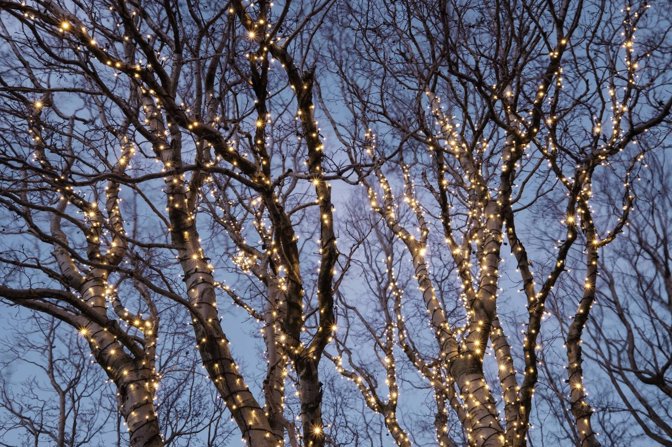 First, protect your tree from potential burns or damage by checking the lights. They should be marked for outdoor use and free of any burned-out bulbs.

It's no fun to start stringing and then run out of lights! Use the tip above to make sure you have enough before you start.

Secure an extension cord at the base of the tree.

For especially tall trees, grab a ladder and a friend to help.

Wrap the light string into a ball and begin unraveling as you move up the trunk. Be sure the prongs that you need to plug in are on the bottom.

Plug another string of lights into the first, secure both with electrical tape and start wrapping the branches. If the lights don't latch easily, use twist ties to hold them in place.

Keep wrapping branches where you see fit. Every limb may not need to be covered, so turn on the lights periodically to see how they look. To be safe, don't attach more than three light strands to one extension cord.

Decorating a pine tree? Even simpler! Start at the top of the tree and drape lights above and below pine branches. Secure them with tree clips along the way.