Just like most living things, your plants, shrubs and trees can only handle so much water.
If a flash flood hits your garden occasionally, your plants should rebound. But if your garden keeps flooding when it rains or is often affected by major floods, that's a problem.
Learn how to fix that, and moving forward, replace damaged plants, trees and shrubs in your garden with plants that thrive in wet soil.
Garden Flooding Problems and Solutions–Plants, Trees and Shrubs that Grow in Wet Soil
How can I tell if a flood did damage to the trees, plants or shrubs in my garden?
Plants that sit in saturated soil, called waterlogged soil, will begin to decline after a week because their roots can't access oxygen from the air.
If you see water pooling in your yard, use a long screwdriver to poke deep holes in the ground when the water begins to drain. Try not to step on the waterlogged areas much when they're wet, or you'll worsen the problem by compacting the soil.
Then, monitor your trees' health for the next few months to see if there's any long-term damage. Keep your eye on oaks, hickories, lindens and some maples. They're more likely to have problems since they're not adapted to flood conditions.
Look for the following signs of tree trouble after a flood:
Exposed roots
Gouges in the trunk
Premature fall color
Wilted or discolored leaves
Dieback of branches


Ready to add flood tolerant trees and shrubs to your garden?
Always pick plants in your gardening zone to set yourself up for success. Trees and shrubs in your zone are most likely to thrive in your area's climate and weather. Click to discover your gardening zone.
And plant new trees and shrubs in fall or spring–not summer and winter–unless you live in a long season region such as Florida.
Flood-Tolerant Trees for Wet Areas (Zones 2, 3, 4, 5, 6, 7, 8, 9, 10)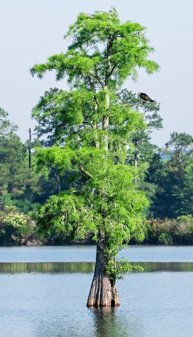 Pictured: Bald cypress tree, ideal for zones 4-10
Swamp white oak (zones 3- 8): A medium-sized shade tree that thrives in wet, acidic soil
Thornless honeylocust (zones 3-9): A fast-growing shade tree that's easy to care for and moderately flood and drought tolerant
Hackberry (zones 3-9): A tough tree that thrives almost anywhere and can tolerate some flooding and drought 
Bald cypress (zones 4-10): A sleek, pyramid-shaped conifer that loses needles in the winter, thrives in swamps and can tolerate flooding
River Birch (zones 4-9): A fast-growing, medium-sized deciduous tree with dense foliage in summer and beautiful ark year-round
Black Tupelo (zones 4-9): A moderate growing, medium-sized, shade-tolerant tree of the understory with beautiful red fall foliage and small dark fruits to feed wildlife
Sycamore (zones 4-9): A fast-growing, very large deciduous tree with beautiful bark year-round
Sweetgum (zones 5-9): A fast-growing, large deciduous tree that is very hardy and prolific


Flood-Tolerant Shrubs for Wet Areas (Zones 2, 3, 4, 5, 6, 7, 8, 9, 10)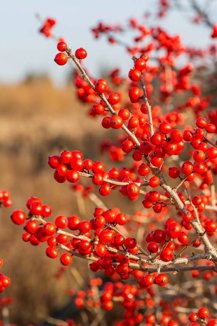 Pictured: Winterberry bush, ideal for zones 3-9
Redosier dogwood (zones 2-7): A fast-growing, hardy shrub with beautiful red stems that prefers moist soil
Bayberry (zones 3-7): A fragrant shrub that smells floral and fruity and is very flood tolerant
Winterberry (zones 3-9): A shrub with bright green leaves and red berries that thrives in both wet and dry soil conditions; very tolerant of seasonal flooding
Swamp azalea (zones 4-8): A spicy-smelling shrub with sweet flowers that tolerates flooding but cannot grow when roots are submerged in water for long periods of time
Sweetspire or Virginia willow (zones 5-10): A shrub with beautiful fall color and white blooms; tolerates flooding if planted in shade