Think trees have to grow as big and tall as those 200-foot-tall redwoods?
Think again! Tons of flowery, fruity and leafy trees can add beauty to any landscape, no matter the size. And we're not just talking about those petite bonsai trees either.
Read on for the top 12 trees fit for small spaces.
The 12 Best Trees for Small Spaces and Front Yards
These small but mighty trees are perfect for a petite front or backyard, patio space or small garden. 
All trees marked with an asterisk are excellent options to plant near a house! But remember to provide enough space for your tree's canopy to grow. To do that, look up the expected mature crown width, and half it! Plan to place your tree that far away from your home. For example, a tree with an expected 30-foot crown spread should be planted at least 15 feet away from your home.
Small Trees for Landscaping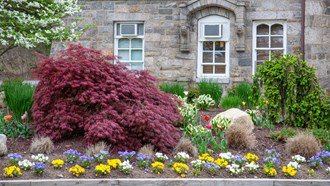 American hornbeam* (Zones 3-9): A 20-to-30-foot tree with leaves that change vibrantly with the seasons
Japanese maple* (Zones 5-9): A popular small-scale tree that can top out at anywhere from 4 feet to 25 feet
'Twisted Growth' deodar cedar (Zones 6-9): A tall, slim evergreen that grows 8 to 15 feet
Windmill palm (Zones 8A-11): A cold-hardy palm with a texturized trunk that doesn't get too big (usually 10 to 20 feet)


Dwarf Flowering Trees to Plant in Small Spaces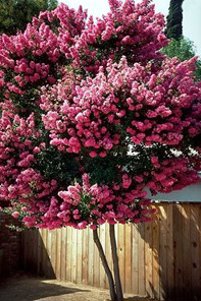 Henry Anise (Zones 7-9): A 6-to-15-foot evergreen with soft pink flowers
Kousa dogwood* (Zones 5-8): A 20-to-30-foot tree that's draped in snow-white or rosy-pink flowers
Lollipop crabapple (Zones 3-8): A 10-to-15-foot tree with a slender spread of bushy, white flowers
Cornelian cherry dogwood* (Zones 4-8): A slow-growing tree that reaches 25 feet and displays clusters of yellow flowers in very early spring
Crape myrtle (Zones 7-9): A 6-to-25-foot tree with a colorful mix of flowers, from pink to red to lavender


Trees Under 10 Feet Tall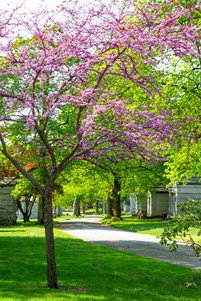 Blackhaw viburnum (Zones 3-9): A petite tree that grows 10 to 15 feet tall and wide with creamy-white flowers in spring and plum-colored leaves in fall. Bonus: you can make preserves with this tree's fruit!
Hibiscus syriacus (Zones 5-8): A vase-shaped tree that grows 8 to 10 feet tall and sprouts lavender flowers
'Viridis' Japanese maple* (Zones 5-8): A slim plant with vibrant green leaves that grows 4 to 6 feet tall
Weeping redbud (Zones 5-9): A narrow, 4-to-6-foot tree with cascading, heart-shaped leaves
Pygmy date palm (Zones 10-11): A dwarf palm tree that grows 6 to 12 feet tall and has graceful, feathery fronds. It also thrives in containers!